Danes Lead Into the Sharp End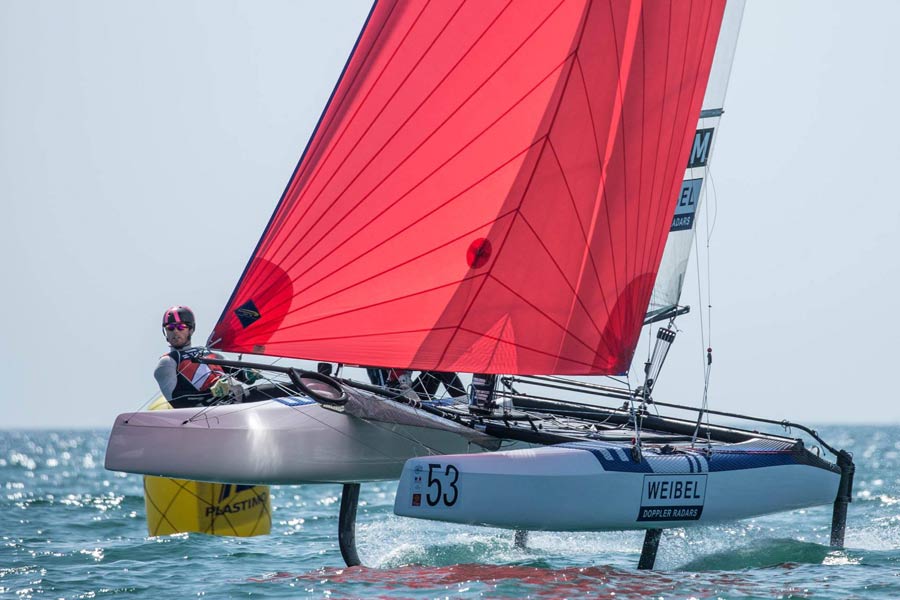 The top two crews at the Nacra 17 World Championship both emerged from a challenging Race 7 of the Qualifying Series with their worst results yet. But, showing the hallmarks of potential champions, both regrouped and were immediately back into their stride during the subsequent two heats and so head into Friday and Saturday's Finals with just a small cushion over the third placed team.
The World Championship leaders in La Grand Motte, France, remain Denmark's Lin Ea Cenholt and Christian Peter Lubeck, local heroes when they won last month's 2018 Aarhus Sailing World Championship Test Event.
The Danish duo who only narrowly missed Olympic selection to rivals Allan Norregard and Annette Viborg, today broke from their usual 'stay with the group and stay consistent' strategy in today's first light winds race, contested in a patchy 10-11kts of cross offshore breeze, only to find themselves hung out to dry hundreds of metres behind their rivals. They battled back to their discard, 19th.
In the same streaky breeze, which was enough, at times, to more favour the lighter crews who could foil and fly for periods, Great Britain's World Ranked 1 duo Ben Saxton and Katie Dabson, who have only been together since May, also sailed their discard. They too bounced back to a 1,5 while the ice cool Danes went 2,2 to lead the Brits into the Finals by two points.
Spain's double Olympic medallist Iker Martinez and Olga Maslivets had a similar day in the patchy, up and down sea breeze which did not quite reach the forecast 12kts. They sailing to a good fourth and a good first, but then had to fight back from deep to an eleventh. But while the Spanish aces are up to third in the standings because they already have an eleventh in their scoreline they go into the Finals eight points behind Saxton and Dabson.
With the top 24 duos making the cut today to the Gold Fleet, the business end of the Nacra 17 World Championship will see a big step up in the level. To date none of the Rio Olympic medallists are in the top five, Argentina's Olympic champions Santi Lange and Cecilia Carrannza Carroli are sixth at their first Nacra 17 regatta since their Rio victory. They won the third race of the day. But silver medallists Jason Waterhouse and Lisa Darmanin are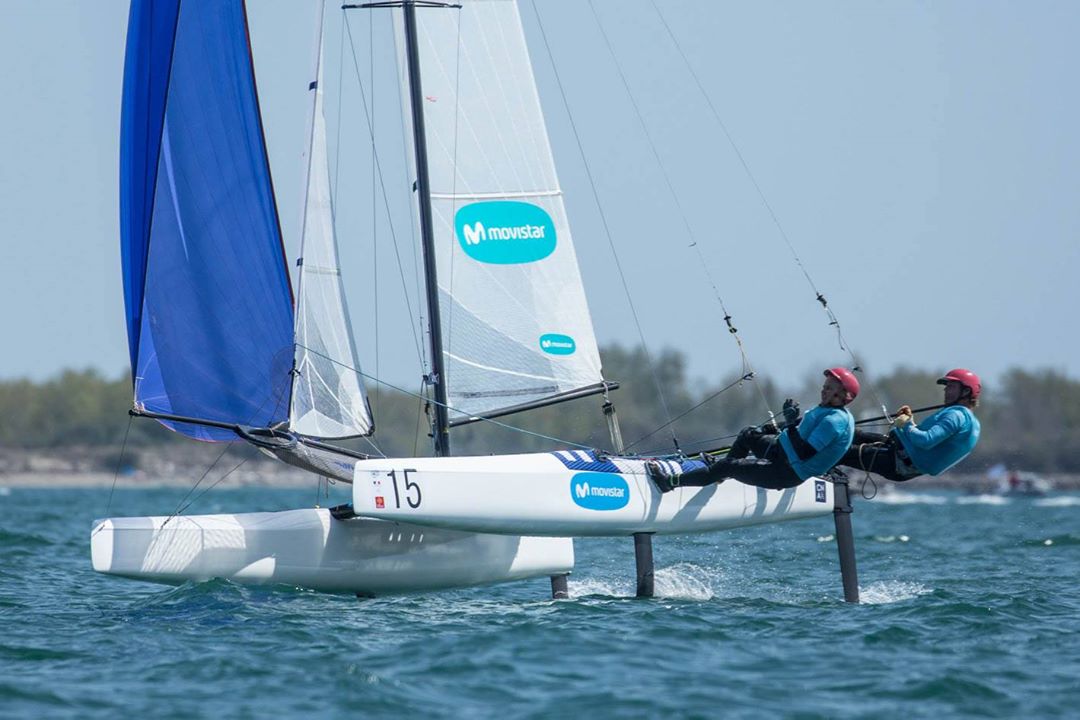 eighth and bronze winner, Austria's Thomas Zajac with new crew Barbara Matz are 19th.

The Danes Cenhholt and Lübeck have been as impressively consistent on the Camargue's Baie d'Aigues Mortes as they were winning on their home waters.

Britain's leading helm Saxton, who finished ninth in Rio and is one of the most experienced in the fleet having started in 2013 when he was runner up for the world title, warned:

"The Danes are fast, start well and are good upwind and downwind. But it is a going to get a lot tougher. It is wicked to be here among all these good sailors. I relish the opportunity from here."

But theirs is a potent pairing, the fresh drive and impetus brought aboard from the powerful, smart Dabson complementing Saxton's experience, "We are good at cracking on, never switching off, we work hard and are good at regrouping and getting going again and that makes us quite nice and consistent." Saxton said today, "Katie has been great. There are not many sailors could hop on to the boat in May and already have a Europeans medal. Credit to her. She puts a lot of effort in and that goes a long way."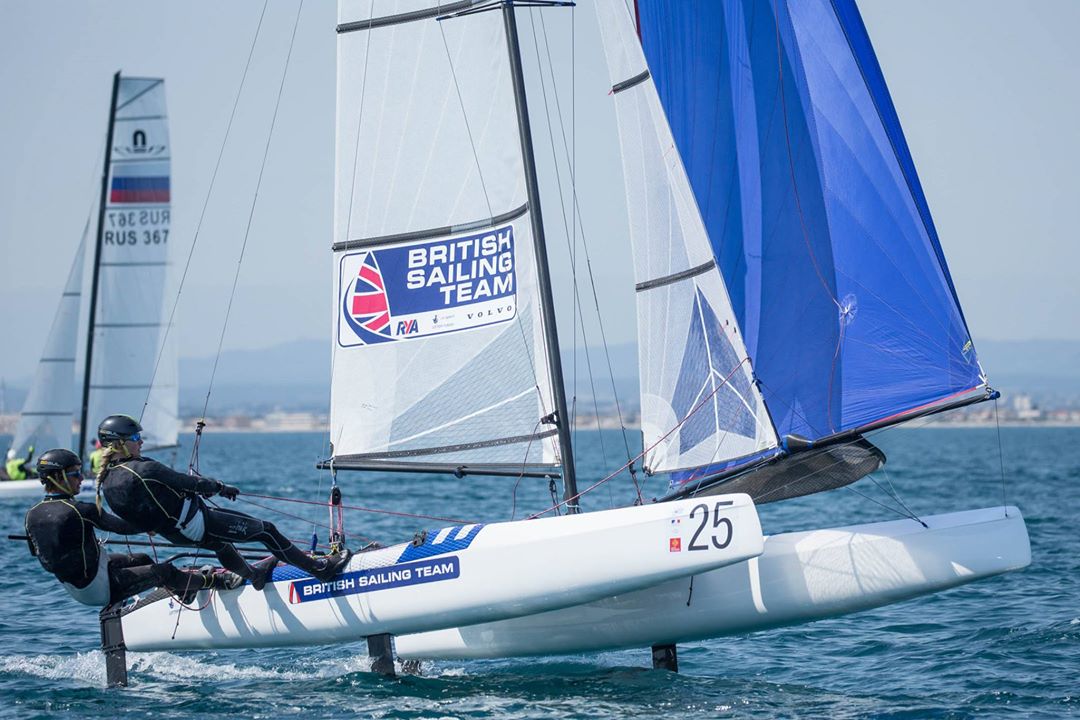 "Some people are playing (with their boats) more than others. I tried a new setting today in the boat, just how you set the power up in the boat, and that seemed to work and so we are learning every day." Saxton concluded.

Fourth in Rio, New Zealand's Gemma Jones and Jason Saunders are nicely poised in fourth. Saunders said. "Overall today we are happy because the wind was a bit fickle on our course. We are happy with our start to the regatta The first objective was to be in the gold fleet and not to do anything stupid Now the serious things start tomorrow. We are in the match but the intensity goes up and up from here. Before the regatta we had worked hard at sailing upwind with the gennaker and that was not allowed so we had to regroup, relearn a lot of stuff. But we have been making good starts which are not usually our best points. So these are good learnings now to carry forwards to the Finals. We are looking to finish up in the Top 5."

Full results

Standings after 9 races inc 1 discard

1 Lin Ea Cenholt Christensen/Christian Peter Lubeck (DEN)29pts (12, 1, 1, 3, 4,4, (19), 2, 2)
2 Ben Saxton/Katie Dabson (GBR) 31pts (6,4,2,6,5,2 (10), 1,5)
3 Iker Martinez/Olga Maslivets (ESP) 38pts (1,(11), 9,4,7,1,4,1,11)
4 Gemma Jones/Jason Saunders (NZL) 40pts (3,5,4,(14), 3,7,5,11,2)
5 Moana Vaireaux/Manon Audinet (FRA) 43pts (6,5,7,4,3,3,9,6,(10))
6 Santiago Lange/Cecilia Carranza (ARG) 45pts (9,7,3,1,8,6,(12), 10, 1)
7 Ruggero Tita/Caterina Banti (ITA) 46pts (12,2,10,6,1,2,3 (18), 10)
8 Jason Waterhouse/Lisa Dalmanin (AUS) 47pts (4,9,12,5,1,5,(13),4,7)
9 Pablo Defazio/Dominique Knuppel (URU) 47pts (5,3,5,5,14,(17), 3,9,3)
10 John Gimson/Anna Burnett (GBR) 50pts (3,4,2,(14),6,7,7,13,8)