Tramontane Turns Up the Heat At the Nacra 17 Worlds, Italians On The Up.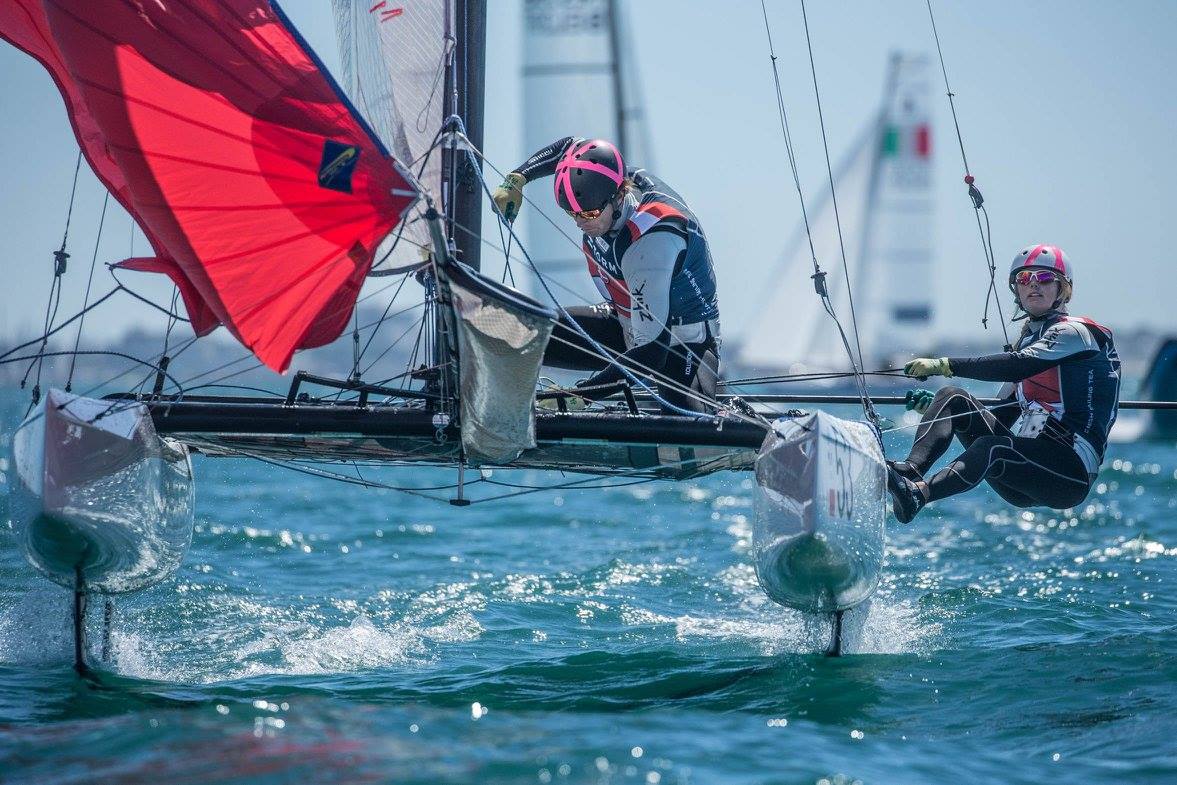 After a relatively benign, gentle introduction Tuesday to the Nacra 17 World Championships - the first ever in flying, foiling 2020 Olympic mode, La Grande Motte's Baie d'Aigue Mortes in the South of France's Camargue region, progressively turned up the heat today as the NW'ly Tramontane breeze kicked in for the afternoon. A solid 3,4,4, for the day from Denmark's Lin Ea Cenholt Christiansen and Christian Peter Lubeck moved the Aarhus 2018 World Championship Test regatta winners six points clear of Great Britain's second placed Ben Saxton and Katie Dabson.

The Tramontane took its time to build. Racing got away in a modest 8-9kts for the first qualifying heats of the day for both fleets before an enforced break waiting for the forecast breeze, which could be seen tantalisingly close, hovering to the west of the large, open bay before it the white horses of the Camargue finally lined up to produce two excellent contests, taking many of the crews to the edge of control, learning finer points of the processes and pitfalls of the different foiling modes. The cross offshore breeze had enough reach to windward to kick up some challenging waves at times.

It was good day for the strong Italian Nacra 17 squad who started their ascent of the leaderboard. Recently crowned European champions Ruggero Tita and Caterina Banti, universally acknowledged as among the fastest teams upwind, bounced back from a bit of a lacklustre first day with a second and first gained as soon as the breeze was in, to move up to third. Best scores of the day came from compatriots Vittorio Bissaro and Maelle Frascari who sailed to a 1,2,3 after three midfleet results on Tuesday.

"On our race course surviving was the key." Tita reported, "We were not doing anything in particular downwind, just surviving and then upwind we were a little faster. The second two races were out of control, it was windy, we were flying some of the time then not flying, jumping. But we are quick upwind and that made a difference."

Of their upwind speed the Italian helm who raced in Rio in the 49er before partnering up with Banti who has a full quadrennial in the class under her belt, Tita contends, " There is no secret. I come from the 49er and even if I came to the class looking to fly upwind but it is not working so far. We are sailing like a normal cat upwind and flying only for little spells."

Gold Medallists Win
Rio gold medallists Santiago Lange and Cecilia Carranza Saroli capitalised in the first race after an excellent pin end start to put themselves in a position to pounce when the regatta leaders made a mistake at the second top mark. Helm Christiansen fell off the boat as she completed a swift tack at the mark in front of the Argentinian duo. They sailed past to take their first winning gun of 2017, their first victory together since Rio. Their second race did not go so well as their main traveller broke on the approach to Mark 1, compromised thereafter they finished eighth. With a sixth in the third race Lange and Carranza Saroli are now up to tenth.
"We were top three when we dropped the traveller down and it went 'bang'. That is a mistake. Every race counts a lot for us for our confidence. I enjoyed the day, it was good fun and we are learning together race by race. Today we learned how much we really have to catch up after my injury. I damaged my ligament in my knee reaching on Garda when Santi fell on it. We had sailed for ten days and then I was out for three weeks. So it is good to be back."
Recalled Saroli.
Start of the Story
For Spain's double Olympic medallist Iker Martinez, lack of training time in the Nacra 17 may be compensated for by sheer experience, a clear head and focus and the sheer drive promoted by missing out on Rio selection. Now having been sailing for six months with Olga Maslivets, Martinez explained they have done little training since the Iberostar Princesa Sofia Regatta and missed the Europeans, but they have done some Moth sailing and he has been busy with the GC32 circuit racing. They won the third heat in the breeze today, their second race win of the series after triumphing in Race 1 and move up to fifth overall.

Martinez smiled, "For us this is just the start of the story and so we don't want to be putting pressure on ourselves this early. But we had a good day with 4,7,1, winning a race in the breeze is good. We keep learning together. Even though we decided on this Olympic campaign six months ago we have not yet done that much sailing together and so to win today is good. In the stronger wind you had to sail well under spinnaker and we did that. As long as the seas are flat it's fine. We pushed a bit harder in that last race. I think everyone feels the same, we will all get better with more training. And after all the problems we had with the boats it is great to be here and to have a championship started and under way."

Thursday is the last day of qualification races before Friday and Saturday's Finals racing. The local forecast is for a day similar to today, light winds in the late morning before the Tramontane NW'ly returns.


Programme et infos pratiques
Photos Didier Hillaire